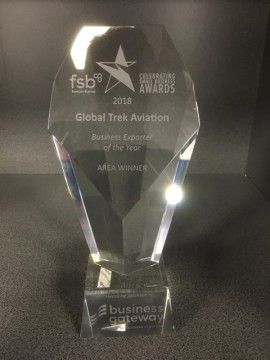 Global Trek Aviation was delighted to win the Business Exporter of the Year award at the FSB regional award. The FSB awards were held at the impressive PlayFair Library, Edinburgh University, on Tuesday 23rd January 2017.
The FSB awards are presented to recognise outstanding businesses and was collected on behalf of the Global Trek Aviation team by Managing Director, David McColm and General Manager, Gordon Bingham.
David said : It was simply fantastic to win the FSB regional award for Business Exporter of the Year. We knew we were up against fantastic competition and when it was announced that Global Trek Aviation had won it was a truly amazing feeling." Gordon added " the FSB awards are very important to acknowledge, not just the winners, but all the contributions made by businesses throughout the country. We have all worked very hard as a team to ensure that we offer the best customer experience and levels of safety. This has resulted in great customer feedback and now formal recognition."
The award winning Global Trek Aviation wishes everyone for their support and good wishes.