Global Trek Aviation attended the NBAA Schedulers and Dispatchers conference in Dallas, Fort Worth along with over 2,800 attendees from all over the world at this major business jet conference held annually. 56 countries were represented this year with over 517 exhibitors. Global Trek Aviation was represented at the event by General Manager, Gordon Bingham and Flight Supervisor, Philip Armstrong.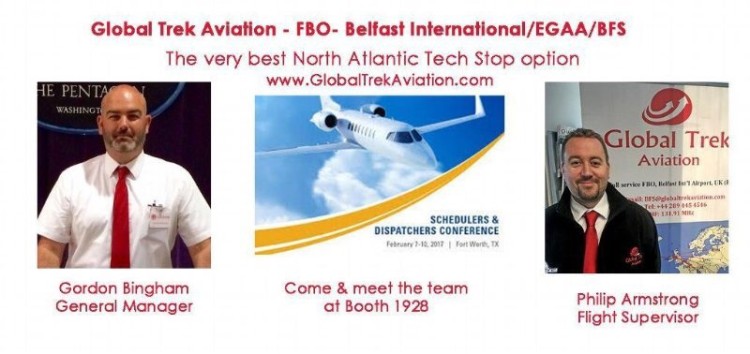 With industry professionals ranging from CEO's, Schedulers and Dispatchers, Flight Controllers and Managers of various business jet operators, this event is seen as the must attend event for the business jet community, for showcasing FBO services to the business jet marketplace.
The Global Trek Aviation team was on hand at their booth attracting new clients and meeting our existing client base. The team were able to showcase the various advantages of the services on offer from Global Trek Aviation and the benefits of the Belfast International Airport location. This was done through client interaction and discussions on just some of the reasons why Global Trek Aviation has been so successful. This achievement was broadcast, along with the positive feedback received from their existing clients, who have enjoyed the excellent service on offer from Global Trek Aviation.
Gordon Bingham explains " The North Atlantic fuel stop market is huge for traffic routing from the USA to Europe and vice versa. With the strategic location that Global Trek Aviation has, with operating at Belfast International Airport, we are perfectly situated to capitalise on this market. This year in Dallas, Forth Worth the NBAA show was hands down the most proactive and productive aviation event I have had the pleasure of attending and showcasing our products and services to the wider business jet community.
Global Trek Aviation operate all their own GSE fleet and Aircraft refuelling trucks, to remove the risk of delays with having to wait for Third Party services, when a clients Jet is on the ground. All Global Trek Aviation staff are certified NATA Safety 1st Qualified PLST, with the professionalism shown on the line demonstrating to the business jet operators that they are in safe hands, at all times.
" The Motto that Global Trek Aviation incorporate is: "
"Beyond Your Expectations"
Gordon Bingham concluded "We back up our Company motto by delivering a service above and beyond for our client's, ensuring a safe and professional service, at all times of the day and night. Operating 24 hours a day, 7 days a week is a benefit to any operator and with no call out fees, together with a very competitive JET A1 fuel price and dedicated aircraft refuelling trucks available at a moments notice on site at the FBO, the client's are always impressed with our outstanding business levels proving this is working for them. With the numerous positive conversations with Jet operators, at the Schedulers and Dispatchers Conference 2017, it looks like it will be another bumper year for the Global Trek Aviation team in Belfast. "